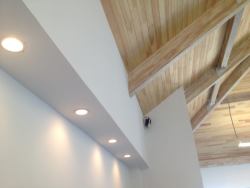 A good residential electrician is indispensable when it comes to keeping your home well lit, safely wired, and fully functional. If your home is more than a few years old, your "to do" list for electrical repairs and upgrades is probably getting longer by the month. Whether you're dealing with inadequate lighting or outlets that don't work, the solution to all your residential electrical needs is to call Granite State Electricians. With three decades of experience and a commitment to providing the fastest service in the Manchester area, we're the local electricians to turn to for all kinds of home wiring, repairs, and electrical installation work. Call or e-mail us today for a free estimate!
At Granite State Electricians, we have the troubleshooting skills and advanced training to handle everything from a simple light switch repair to complex electric service upgrades. We also offer expertise for everything you might need a master electrician for, including:
Light fixture design and installation
Electrical panel installation and replacement
Exhaust fan and ceiling fan installation
Landscape lighting
Generator installation
Swimming pool and hot tub wiring
Phone line and data cabling
Light switch & electrical outlet installation
Whole-house surge protectors
GFCI protection
Energy-saving lighting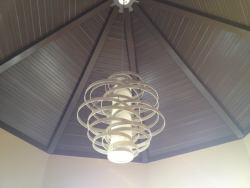 We're available to handle both large installation jobs and small ones, including doorbell wiring, smoke detectors, and carbon monoxide detectors. We're also on hand for appliance installation, electrical repairs, and outdoor wiring for lights and electrical outlets. When you need experienced electricians in Manchester for accurate troubleshooting, fast service, and top-notch workmanship, give us a call at Granite State Electricians. As an added benefit, we'll also waive your service fee on all completed electrical repairs. That's something you may not get from other local electricians in town.
With our certified electricians on the job, you get the assurance that all work is done according to National Electrical Safety Code standards. We're also available to equip your home with the safest and most up-to-date Ground Fault Circuit Interrupters (GFCI) and reliable whole-house surge protectors. We've been serving the southern New Hampshire area since 1993 and we take pride in providing you and your family with outstanding service and exceptional workmanship. We also have a knack for creative lighting design, home remodeling wiring, and much more! 
Contact us today to schedule a convenient appointment or a no-obligation cost estimate. When you call, let us know if you're interested in energy-saving lighting products that can help you conserve electricity and save money on your monthly electrical bill.