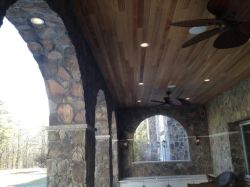 If you're considering having landscape lighting installed on your property, it's important to have the job done by experienced electricians so that every detail gets handled properly. Whether your main priority is enhancing the nighttime appearance of your property or improving overall security, outdoor landscape lighting can accomplish those objectives and much more. The advantage of choosing Granite State Electricians as your outdoor lighting installers is that we offer the fast turnaround, precise workmanship, and customer service that will help you get the most value for your money. When you turn to us for your landscaping lighting, we'll base our recommendations on your objectives, the layout of your property, and your budget. You'll never get a one-size-fits-all approach from Granite State Electricians because we know that your needs are as individual as you are. Call us today to discuss the many products available for security lighting and decorative landscape lighting.
LED energy-saving landscape lights
Deck and patio lighting
Motion-activated light fixtures
Architectural lighting
Spotlights
As certified electricians with more than 30 years of experience in all aspects of electrical wiring and landscape lighting design, we'll provide you with the best possible advice, reliable installation service, and quality workmanship in the Manchester area. We'll also make sure your lighting complies with National Electrical Code standards and is properly installed to withstand moisture, temperature extremes, and other adverse outdoor conditions. Our objective is to surpass your expectations and provide you with landscaping lighting that stands the test of time. You can count on us for professional installation, fast turnaround time, and long-term performance of your lighting fixtures.
Whether your goal is to beautify your property, improve security, or make your entrances easier to find at night, we can customize a landscaping lighting plan that precisely matches your needs! We install both residential and commercial landscaping lights, and we're always happy to offer tips and suggestions on creating the optimal outdoor lighting plan for your home or business. We can also assist you with attractive outdoor lighting fixtures for your garden, front walkways, or backyard deck. Let us know what you have in mind, and we'll do our best to turn your ideas into reality!
One thing's for certain: Well-placed and professionally installed landscaping lights make your property more inviting to guests and much less inviting to prowlers. Take the first step today by contacting us for a free estimate. An ounce of prevention begins with a phone call to Granite State Electricians.