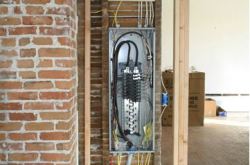 A problem that's common to both growing families and expanding businesses is an insufficient supply of electrical power. When appliances and other electronics demand a greater supply of electricity than your building was originally intended to handle, problems arise. The telltale signs of an electrical system that's obsolete include flickering lights, breakers that need to be reset frequently, and appliances that don't seem to be operating at full power. Getting a service upgrade can correct these problems and ensure that a sufficient amount of electricity is being distributed to where it's needed. If you think you might need an electrical service upgrade, give us a call at Granite State Electricians. We'd be happy to stop by to troubleshoot your electrical problems and give you a free estimate of what an electric upgrade would cost. Our staff of certified electricians comes to you with 30 years of experience in doing panel upgrades for both homes and businesses, and we're well versed in all aspects of wiring, service upgrades, and electrical repairs.
If you're tired of the frustration of fuses blowing and appliances not working at full capacity, we can help. We have the training and practical experience to identify the source of your electrical problems and take the necessary steps to get them corrected. We'll inspect your electrical system and, within minutes, let you know what's causing the problem and whether a service upgrade would correct those issues. By increasing your home's ability to distribute electrical power more consistently to where it's needed, your household will run much more smoothly. If you're having electric problems at a commercial building or business, a service upgrade could easily improve productivity, reduce downtime, and help you project a more professional image to employees, customers, and the general public.
Take the first step to improving the efficiency of your electrical system by giving us a call at Granite State Electricians. We're expert troubleshooters with the skills and knowledge to properly upgrade, replace, and repair your existing electrical panel. A thorough service upgrade may also involve upgrading the meter socket, wiring, and grounding system. Regardless of the extent of your electric upgrade needs, you can always rely on Granite State Electricians for precise workmanship, fast turnaround time, and total professionalism every step of the way. It's also assuring to know that all work we perform is done according to National Electrical Safety Code standards. When we provide you with electric upgrade services, you get the peace of mind of knowing that old and possibly faulty wiring has been replaced with a safer and more efficient wiring system.