Home Surge Protection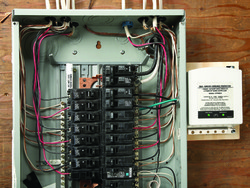 Lightning surge protection is something many people don't think about until an unexpected voltage spike in the house ruins their computers and other electronic equipment. If you're at all concerned about protecting your electronic devices from the possibility of high-voltage surges, there are steps you can take to prevent the expensive damage and data loss from this kind of event. Call us at Granite State Electricians to learn about the different types of surge protectors available and how we can help you safeguard your valuable electronics. We'll help you determine the most effective form of surge protection for your home or business, and provide recommendations based on your electrical system, your budget, and the number of electronic devices you own.
Whether you're looking for whole-house surge protection or a more targeted approach to blocking or diverting spikes of electricity, we have the knowledge and experience to customize the best solution for you. Getting a surge suppressor is a cost-effective measure you should consider to avoid unnecessary losses of computer data, electronic equipment, and other valued devices in your home. It's the perfect example of how an ounce of prevention can be worth a pound of cure! For additional safety, we also offer non-MOV surge protectors, which help safeguard you and your family from avoidable fire risks.