Ceiling Fan Installation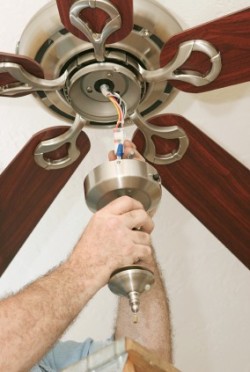 Installing a ceiling fan is one of those home improvement projects that seems easy to do until you actually attempt it. If you're not thoroughly familiar with ceiling fan wiring or methods of securely anchoring a ceiling fan to the ceiling, then a lot of potential problems and potential hazards could develop. The best way to make sure a ceiling fan install is done correctly is to call a certified electrician who's familiar with ceiling fan wiring and safe anchoring techniques. Here in the Manchester area, Granite State Electricians is one of the most experienced teams of ceiling fan installers in town. We'll not only see to it that your unit is fully functional and ready to keep you cool and comfortable, but we'll also make sure it meets National Electric Safety Code standards.
Avoid the frustration and potential injuries that could result from improperly installing a ceiling fan in your home or business. Call us today to get the job done quickly and professionally. We'd be happy to provide you with a free estimate and a convenient installation time! Your ceiling fan install will be completed before you know it and you'll have the peace of mind of knowing the job was done right! Our great service and fast turnaround time will also make the entire process a pleasure!